A Taste of Stanislaus County Dinner Series
Enjoy the Best of Stanislaus County
With summer comes the time to enjoy all our favorite summer foods grown right here in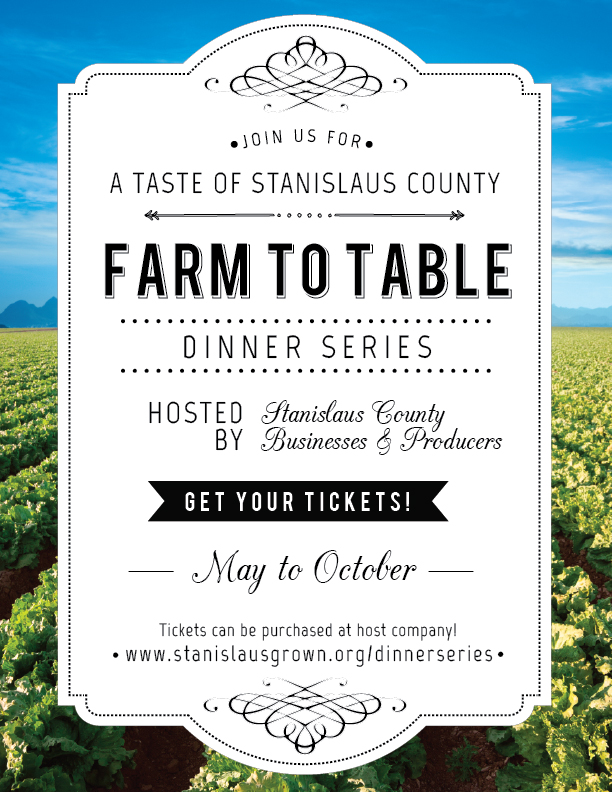 Stanislaus County! There is no better time than now to enjoy what our farmers have worked hard to grow all spring. Bring your family and friends to join us for our first ever farm-to-table dinner series featuring the best local ingredients from around the county!
Each dinner will be hosted by a different farm, restaurant, or organization throughout the county. You'll dine under lights in downtown Turlock, be surrounded by orchards in Bloomingcamp Ranch, enjoy the rolling foothills at Orvis Ranch and experience the ambiance of Galleto's and Greens in downtown Modesto. The menus will include specially prepared courses made with the freshest ingredients!
Your Support Goes Back to the Community
Your ticket will not only support the local farmers, but local organizations as well! The profits from each dinner of our series will go towards various organizations that provide community programs, farm to school efforts, scholarships, internships, and more within agriculture.
Dinner at Greens on Tenth
Our first dinner was hosted by Greens on Tenth in Downtown Modesto on the evening of May 26th and was a delicious success! We shared an intimate dinner prepared by the chefs at Greens who gave us a taste of what's to come at the Modesto Certified Farmers Market Thursday evening markets which started on June 2nd. The profits went to support Stanislaus Grown and Modesto Certified Farmers Market. Don't miss out on our other dinners!
June 30th, 2016: "Dinner at Dusk" Hosted by Turlock Downtown Assoc. on Main Street between Thor & Center Street, Downtown Turlock. Appetizers start at 5PM, dinner served at 6PM. Tickets at $100 and can be purchased at Farm House or by Committee Members. Menu: Prime rib and pork tenderloin, locally grown sides and dessert!
July 29, 2016: Hosted by Greens on 947 Tenth Street, Downtown Modesto
August 2016: Hosted by Galletos, Downtown Modesto
September 16th, 2016: Hosted by Bloomingcamp Ranch, Oakdale
October 2016: Hosted by Orvis Ranch, Farmington